Mark Rober used to work at NASA and helped design the Curiosity Rover, but he left that job to pursue a higher calling: glitter bombing people who steal packages from his front porch.
"If anyone was going to make a revenge bait package and over-engineer the crap out of it, it was going to be me", Rober said, according to BBC News.
The video already has over 7 million views, as of Tuesday morning.
Rober created a device that would spray thieves with glitter and fart spray upon opening the package.
On Monday, Rober uploaded his video documenting the project, "Glitter Bomb vs. Package Thief", to his YouTube page.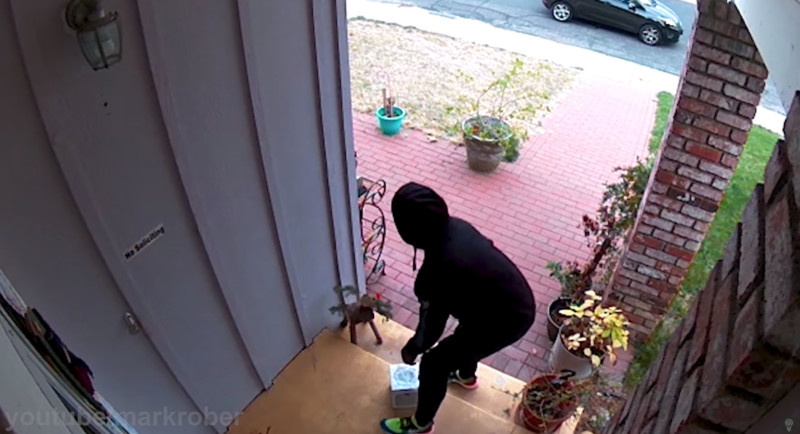 A security camera still frame of one of the thieves stealing the camera trap bait package
The package also has a built-in Global Positioning System locator and accelerometer, which prompt the phones to start recording if the box is moved. The GPS also lets Mark see the box's location. Rober's device purportedly captures video of what appears to be bungling bandits spewing obscenities as their package-stealing plots are thwarted by clouds of glitter and stench. Once completed, he slapped a packing label addressed from the "Home Alone" character Kevin McCallister to movie villains Harry and Marv - a nice, figurative bow on the present. The phones are housed in a container that doesn't immediately reveal what they are and, as a lovely cherry on top, there's a fart spray that gets deployed five times every thirty seconds.
"The moral of the story is, just don't take other peoples' stuff", Rober said.
Though some online have wondered whether Rober hired actors, he insisted all of the recorded footage was of actual package thieves.
'Not only is it not cool, but on the plus side, you'll never find yourself in this situation'.
More news: Tony Blair Is Onto Something In Call For Second Brexit Referendum
More news: Suns owner threatening to move team to Seattle of Vegas
More news: Special counsel: Federal Bureau of Investigation interview didn't lead Michael Flynn to 'make false statements'